It once was a horse stable, a "medieval" sooty dark lair, with the stones in the wall blackened by the fire and smoke of the burning firewood, and with large wooden tables, benches and ancient jugs and vaulted ceilings. An authentic rustic building, a place to eat good simple food, using traditional recipes: flat bread, corn meal (polenta) with sausages, bigoli pasta, corn meal with beans, beans and pork rind, grilled meat and cheeses, potatoes and onions cooked in the embers and typical Umbrian desserts.
Opening Time
Open every day.
Closing day Tuesday and Wednesday for lunch.
La Stalla restaurant menu
Scan the Qr-code to see the menu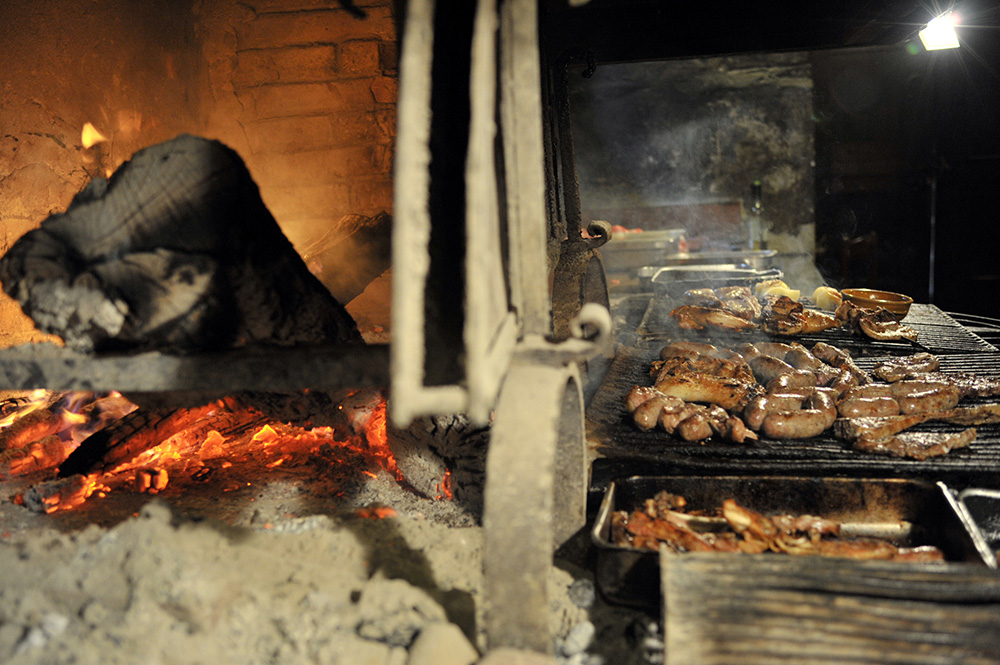 Our Story
---
La Stalla Restaurant has been open for forty years and is considered an institution by many clients and friends from around the world. It is located on the road that leads to the Eremo delle Carceri (Hermitage of the Prison), in a park on Mount Subasio, and the menu is based on the dishes that our grandmother, Maria Oliva, prepared for the pilgrims.
The room was created in our family's stables and it is quite amazing: it has walls darkened by the smoke of the fireplace, that are covered with the graffiti inscribed by our guests, old solid "Franciscan" style wood tables and a fireplace that is always burning right in the centre of the room.
---
On weekends our clients often sit at the long tables next to people they just met, and they even go on to end the evening late at night, drinking the house wine and chatting with their neighbours. The large terrace becomes a self-service for the restaurant during the summer, offering a beautiful view on the Umbrian Valley, while eating these traditional delights.
---
The Menu, that was illustrated by a close friend of the family, offers plates that range from the traditional flatbread filled with prosciutto, sausages, chard, and chicory or caciotta cheese, and delicious bruschetta, seasoned with local olive oil.
The best first courses are the bigoli pasta, made by hand with ricotta and spinach, the potato "gnocchi" with ragù meat sauce, Strangozzi pasta with a spicy sauce or the "Umbrian style" cornmeal (polenta): with meat sauce.
---
The second course dishes range from fresh meat – veal steaks, lamb chops, pork ribs, chicken – cooked on the barbecue upon request, to cheese roasted in a dish or directly on the grill, like our Scamorza cheese grilled on a skewer.
---
The side dishes are the main reason people like to go eat at "La Stalla" : the roasted onions and potatoes, cooked directly under the cinders in the fireplace and opened just before serving them, like they were served many years ago.
---
The desserts are all homemade and created for all tastes: zuppa inglese (custard served on a slice of cake), coffee and ricotta custard, tiramisù, jam pies, raisin and pine nut bread, and almond cookies that can be enjoyed dipped in vin santo.